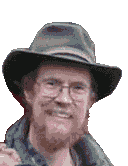 [vita(HTML)] [vita(PDF)] [public service] [research interests] [others named Douglas Jones]
Email:

douglas-w-jones@uiowa.edu

Snail Mail:

Douglas W. Jones
201H MacLean Hall
University of Iowa
Iowa City, IA
52242-1419

Phone:

(319)335-0740 -- leave a message
(319)335-0713 -- department secretary

Fax:

(319)335-3624
Hours (leave phone message or Zoom):

Irregular.
Wear a,
mask!
Remember the 862,494 who have died of COVID 19 in the US
Wear a,
mask!
and the 8,317 who have died in Iowa
Courses
Fall 2021

Operating Systems and Security

Computer Architecture

Programming Languages
Research Areas
Obsolete Computer Technology
Other
---
The views and opinions expressed in this page are strictly those of Douglas W. Jones. It goes without saying that this well-reasoned and insightful material has not been approved by the Department of Computer Science, the College of Liberal Arts and Sciences, The University of Iowa, or the State of Iowa.