22C:16 (CS:1210) Computer Science I: Fundamentals
Main section: 9:30-10:20 MWF Room W10 PBB (John Papajohn Business Building)
Evening section: 5:00-6:45 MW, Room 217 MLH (MacLean Hall)

---
Instructor:
Sriram V. Pemmaraju (morning and evening section)
101G MLH, sriram-pemmaraju@uiowa.edu, 319-353-2956
Office Hours: 7:00pm-8:00pm M, 2:30pm-3:30pm W, 1:00pm-2:00pm Th

Syllabus document, Information about TAs, Announcements, Quizzes, Projects, and Exams, Weekly Topics, Online Resources
---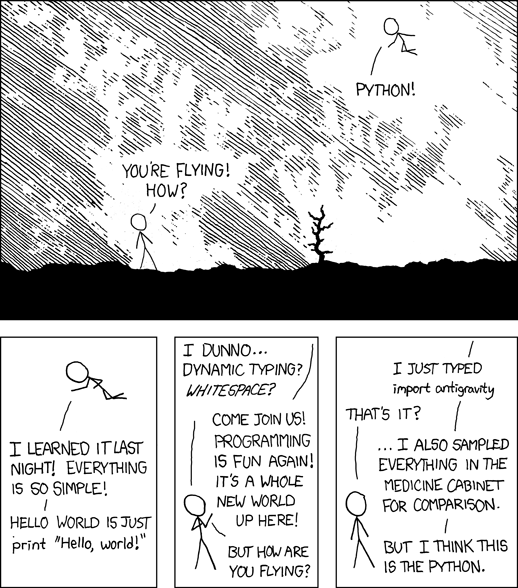 (From xkcd)
---
There are 4 TAs assigned to this course. Their names, e-mail addresses, and office hours are below.

Name		e-mail address				Office Hours	
Sikder Huq 	sikderrezwanul-huq@uiowa.edu		Thurs 3:30-6:30, 301 MLH
Niraj Pandya 	nirajhemantbhai-pandya@uiowa.edu	Wed 8-9:30, Fri 8-9:30, 301 MLH
Naveen Dewda 	naveen-dewda@uiowa.edu			Mon 1-3, Wed 1:30-2:30, 301 MLH
Richa Gandhi 	richa-gandhi@uiowa.edu			Tues 10-11:30, 301 MLH

Here is a Google calendar view of the office hours of the instructor and the TAs.
1/24 There will be a quiz in the discussion sections next week (1/27-1/31).
2/12 Exam 1: Feb 21st, 6:30-8:30 pm, PH 100. Here is more information about Exam 1.
2/25 Here is Extra information on Problem (a), HW2.
2/28 The 7th Annual University of Iowa Computing Conference hosted by the UI ACM student chapter and the UI Department of Computer Science starts at 6:30 pm on Friday, 2/28.
3/12 Here is my output for HW3.
3/21 Use this Test file for Phase 1 for testing your solution to Phase 1.
3/29 Use this Test file for Phase 2 for testing your solution to Phase 2.
3/30 Exam 2: Apr 4th, 6:30-8:30 pm, PH 100. Here is more information about Exam 2.
5/8 Project 2 Phase 2 due date is Friday, May 9th at 4:59 pm. You have to submit two additional files (i) output.txt: this file is a simple text file containing the output produced by your program project2Phase2b.py and (ii) project2Phase2bOneRun.py: This file is very similar to project2Phase2b.py, except that it contains code for just one run instead of 10 runs.
5/11 Final Exam: May 15th, 5:30-7:30 pm, C20 PC (Pomerantz Center). Here is more information
5/11 Finals week office hours: Wednesday (5/14) 2pm-3pm, Thursday (5/15) 10:30am-11:30 am, 1pm-2pm. Please stop by to get help in your final exam preparation.
Python.org is the authoritative source on all Python matters. You will find links to downloads and tutorials here.

Previous offerings of the course:

Free Online textbooks:

Textbooks for purchase: (not required, but useful if you wish to own a book on Python)

Miscellaneous stuff:

Khan Academy: search for "Python" to find a collection of videos.